The Keys to Happiness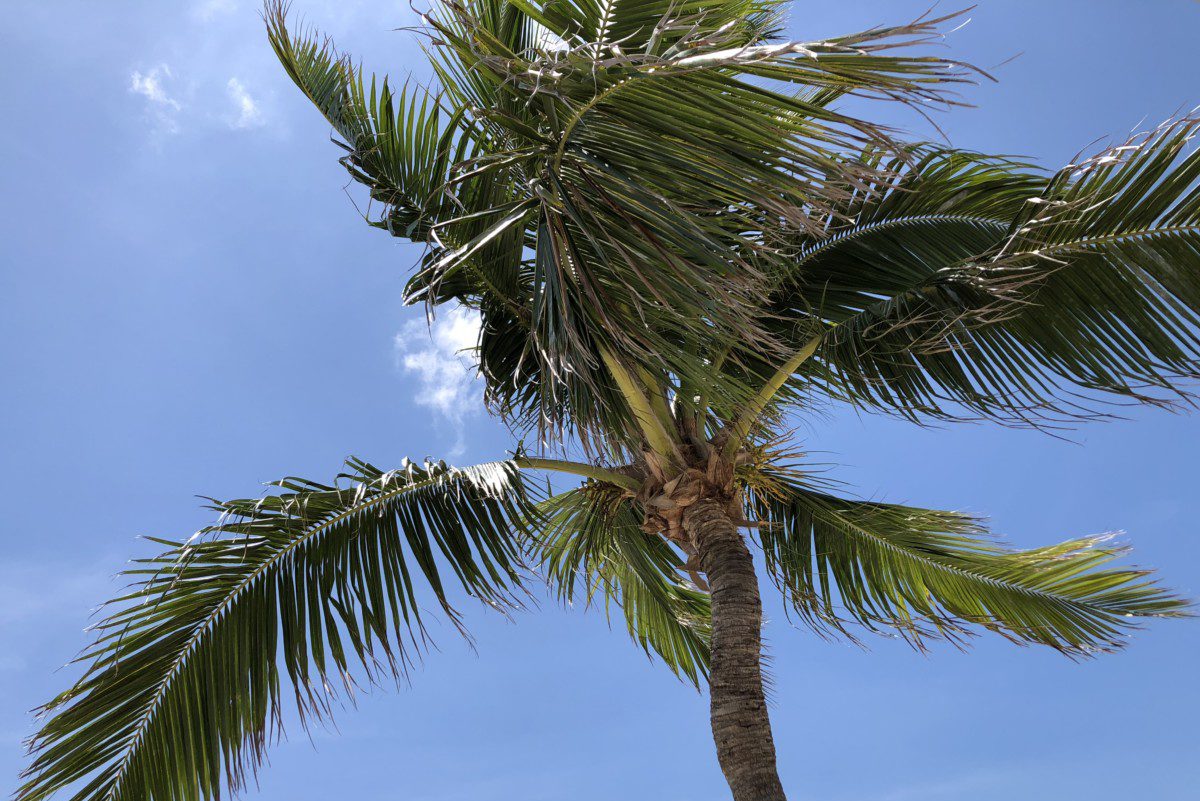 My Trip to The Florida Keys – May 2018
Hello September!
This year has just flown by, and we're coming up on 1 year of living in Florida which just seems insane. I'm also coming up on my 29th birthday… eek! While I'm still getting back into the bloggin' swing, I wanted to recap a trip from a couple of months ago because a) it was SO much fun and b) I took SO many pictures and videos and c) it is truly a Florida destination – The Florida Keys!
I am lucky enough to now live within driving distance of the Keys (4-6 hours depending on traffic and what type of transportation you take). So when my mom and her friends had their annual trip to Key West planned in May, I couldn't pass up the opportunity to drive down and stay with my mom for the week. I hadn't had a *real* vacation in quite some time, so it was long overdue.
So off I went to paradise! How can you not be happy when you're surrounded by palm trees & an ocean breeze, don't you think? Tropical destinations may not be everyone's boat… but it's sure mine!
I cannot wait to go back again and take Mike with me!
watch the video below for more!
I opted to drive down because I had never been before and I figured it would be nice for our group to have a car in case we wanted to drive anywhere. It ended up taking me 5.5-6 hours with traffic and construction, but for my first time I am glad I drove! It was nice to be able to roll my windows down, blast my music, and enjoy the scenery along the way. I think next time I'll take the ferry though (it's only a 4-hour trip and it leaves right from our city, Fort Myers, and goes straight to Key West).
As I kept driving south, it was amazing how clear and blue the water became. It had this teal-ish tint and it was stunning to look at. Once I got into Key West, I met up with my mom and her best friend near the airport – they landed a couple hours earlier and were hanging out at Smathers Beach. We stopped to enjoy the view and have a drink before heading to our hotel to check in.
We stayed at La Concha Hotel & Spa because it's right in the heart of downtown (or at least very close & walkable to everything). My mom's friend has come to Key West for years and this year was my mom's 2nd year going so they know the ropes way more than me (obviously). It was nice to be down there with people who knew some of the good places to go.
The hotel room was relatively small (it is an older hotel) but the proximity to everything was worth it, plus the outdoor pool / bar area was really nice, the indoor bar had killer happy hour appetizers, and we had free drink tickets. All-in-all, it was a great place to stay. I loved lounging by the pool with a drink and that palm tree view!
Adventures in Key West, FL - A Travel Guide
There is so much to do & see in Key West, and the nightlife was poppin' (is that still a saying?). It kind of reminded me of tropical Nashville in some ways. It's also a very popular bachelor/bachelorette destination like Nashville.
Some of the bars we frequented were: Captain Tony's Saloon, Durty Harry's, Dante's pool bar, Sloppy Joe's, Green Parrot, Schooner Warf, Hog's Breath, Irish Kevin's, and more! Since the Songwriters festival was in town, pretty much every bar had some type of live music, so we were always entertained. Besides all of the music and nightlife, we crammed a lot of activities into our trip, so in no particular order here are the highlights of our vacation!
23rd Annual Key West Songwriters Festival – May 9th-13th, 2018
We didn't realize this until we got there, but the week we went down was the Key West Songwriters' Festival, so we got to check out so much live music at night! I was especially excited to see Carolina Story, and I heard that Florida Georgia Line was also here. Apparently this is a huge event for up-and-coming country music folks (I'm more of a pop punk girl but I do enjoy more acoustic-y / folksy types of country, as well as some of the popular hits). The festival was really fun to be in town for & I want to go back for it every year.
Breakfast/Brunch in Key West
There are so many great restaurants in Key West, as I'm sure you can imagine. We ate breakfast at the La Concha hotel one or two times and that was really good and convenient, but we also ventured out to Sarabeth's and The Breakfast Club, Too – both of which are worth checking out!
We sat outside at Sarabeth's and even though it was raining, we were covered by umbrellas (mostly) and enjoyed our mimosas & coffee. My mom and I ordered individually but shared each others' meals because there were so many delicious options on the menu that we wanted to taste!
It was also nice to have a sweet option and a savory option. Mom ordered the Spinach & Goat Cheese Omelet and I ordered something sweet, I can't 100% remember what it was but either way, everything was so good! I especially love anything with goat cheese in it.
At The Breakfast Club, Too, we were also sitting semi-outside (covered ceiling but the entire front area was open). We enjoyed some more mimosas, and I opted for the hash & eggs with a side of breakfast potatoes. Mom ordered a sweet breakfast of Stuffed French Toast with strawberries and whipped cream. We (of course) had to taste each other's dishes because they both looked so good. I seriously cannot stop raving about the food from both of these restaurants!
Some other cool places we did breakfast: Cuban Coffee Queen (delicious breakfast sandwiches & Cuban iced coffee) & Bagatelle (this place deserves a section all on it's own but unfortunately I didn't take any pictures!!!) but regardless this place was awesome!
The Best (Or Atleast Biggest) Bloody Mary in Key West
Oh boy, you guys. I didn't know what to expect when I was told about these Bloody Mary's from The Saint Hotel in Key West, but it surpassed my expectations. This is truly the biggest Bloody Mary I've ever seen.
As strong as the actual drink is, we spent more time enjoying all of the accoutrements on top and inside anyway. This massive drink comes with a slice of crispy bacon and a crunchy stalk of celery, a chilled gulf shrimp, a skewer with roast beef (filled with horseradish), a meatball, and cheese… PLUS olives and tomatoes and it's topped off with a fresh baked popover.
Holy freakin' moly – this drink is a MEAL. When visiting Key West, you need to go get this. It ain't cheap but it's worth it.
Key Lime Coladas + Fish & Chips at Southernmost Beach Cafe
Before heading to the Southernmost Point of the US landmark, we stopped by this cute little beachside cafe for lunch. These Key Lime Coladas were delicious, and the scenery was beautiful! Sitting right by the beach overlooking the water, enjoying a beautiful day in paradise.
Oysters on the Half-Shell at Pepe's Cafe During Happy Hour
This place is a favorite of my mom and her friends, all of whom LOVE oysters. I've never been a huge oyster fan but I gave it a shot – it was pretty good. They're still not my favorite but I'll partake on occasion.
Pepe's Cafe is a Key West staple (the oldest eatery in Key West), and you'll find cute little art drawings of the restaurant at various art galleries throughout Key West. It is kind of a little hole in the wall, but their happy hour specials are really good. A dozen raw gulf oysters for a great value (can't remember exactly how much) as well as drink specials. They have a really good house-made/fresh margarita and the service was fantastic too.
Red Shrimp & BOGO Beers at Conch Republic Seafood Co.
Another excellent place for happy hour specials! We went here a couple of times because they have BOGO beers (when you purchase a beer, you get a chip that you can redeem for a free beer next time). They also had a pretty cool little gift shop where I picked up a couple of bracelets. But my favorite thing about this place is the RED SHRIMP.
In Florida, you'll see pink gulf shrimp a lot, but I had never heard of red shrimp until now. These shrimp are more lobster-like and (from what I understand) come from deeper in the gulf. Either way, they are delish!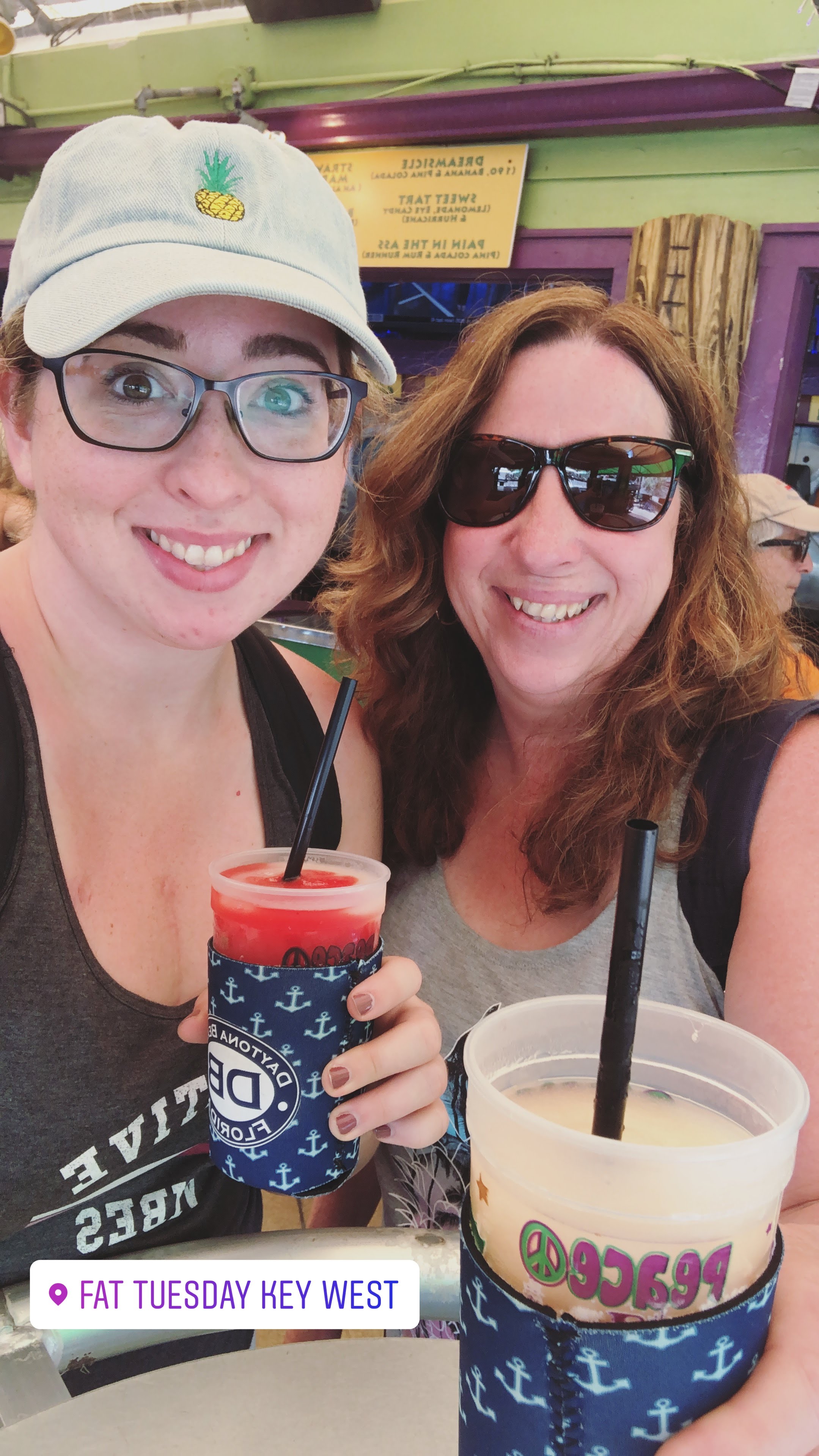 frozen slushy drinks at fat tuesday's
On a hot Florida day, nothing is quite as refreshing as a frozen drink from Fat Tuesday's. The fun part about Key West is there are no open container laws too, so you can pop in to a bar and grab a drink to-go & walk around. Fat Tuesday is lined wall-to-wall with various frozen concoctions. I really wish I would've gotten a picture of the place, but here's mom & I with our drinks.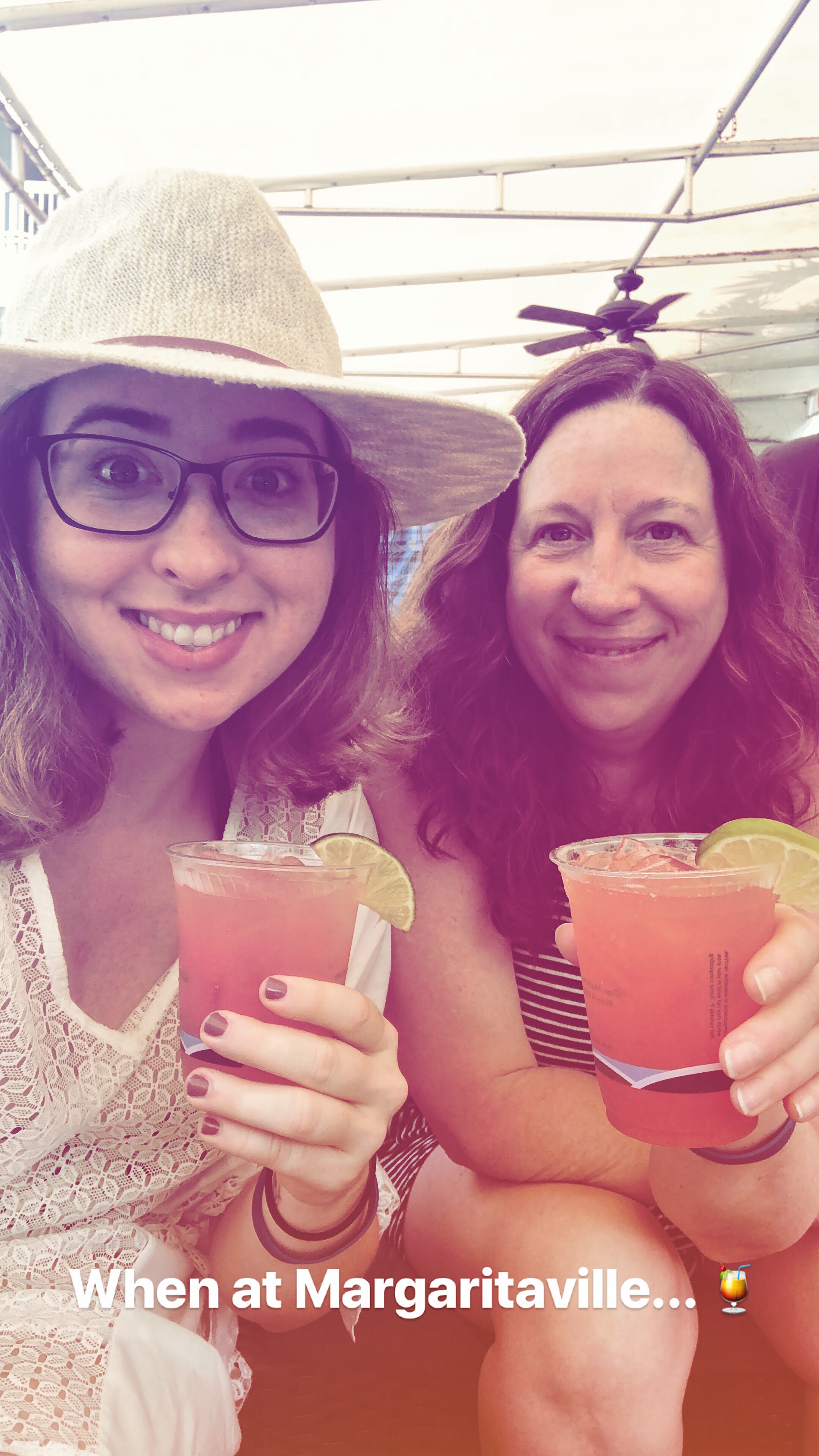 wasted away again in margaritaville
The Margaritaville Resort in Key West has an awesome outdoor pool and bar area and, of course, a bomb ass margarita. In fact, we went back multiple times for those margaritas… so so good. The bar/restaurant food was also really good (I just had to get a "Cheeseburger in Paradise"). 😂
Now that we've covered most of the food & drinks from the trip (yes there were LOTS of drinks), let's talk about all of the fun activities & sights!
HEMINGWAY HOUSE TOUR
The iconic and historical Ernest Hemingway Home & Museum in Key West is a fun daytime activity for all. We went on a guided tour so we got to hear about the home's history, stories about Ernest Hemingway, and there were plenty of 6-toed (polydactyl) cats to admire along the way!
The home's architecture and decor is truly stunning, not to mention the lush gardens and trees that surround the house. We not only got to see the main house, but there's an outdoor pool and a writing studio on the property as well. I really wish I could've gotten better pictures but it was hard on a crowded day to not get a shot with other people in it. But the Hemingway Home website has lots of pictures (as does Google) if you want to admire from afar!
sunset at mallory square
This is a Key West "must do" – enjoy a beautiful sunset at Mallory Square, which sits right next to the Gulf waters. We didn't get to spend too much time here, but there are all kinds of shops and restaurants, but it's most known for being a sunset destination.
The Southernmost Point of the Continental US & "Mile 0"
Both of these are most certainly tourist attractions, but c'mon… you just have to do it, at least once!
Fun Fact: Technically the "Southernmost Point" is not even the real southernmost point – "The real southernmost point is on private Ballast Key a few miles south and west."
The lines can get long, we probably waited for 30+ minutes in mostly direct sunlight (it was hot). Then we felt kind of rushed and there were people standing around getting in the background of the photos. But we did it, and we have the photo evidence to prove it. (Thanks to kind strangers for taking pictures for us).
We drove past Mile 0 at least once or twice but then we finally walked past it on foot so we stopped for a picture of that, too. Cheesy, but hey when in Key West!
Sunset Boat Cruise & All-Day Watersports Adventure
These two activities came as a package deal. They gave us the sunset boat cruise as a bundle when we purchased the all-day water sports adventure through Sunset Watersports. It was a good deal for all that we got! If you're looking for some serious fun in the sun, this is the best bang for your buck!
The watersports adventure includes jet skiing/wave runners, banana boat rides, kayaking, snorkeling, parasailing, waterskiing, kneeboarding, paddleboarding, plus you can play on inflatable slides and trampolines. Lunch was provided, and there was a bar service for the ride back to shore (after all of the fun activities were done).
The sunset cruise had snacks, drinks, and live music all while enjoying the sunset on the water. The clouds were beautiful so I got some really nice photos from that night. We dealt with some stormy weather on the day of the watersports cruise. Luckily, in Florida the storms are so isolated that the boat was able to navigate around the storms.
I brought my off-brand GoPro (mine is by a company called Yi) and got some really awesome footage throughout the day. I will be putting together a vlog-style video at some point with all of the clips! (Stay tuned).
Probably my favorite activity of the day was parasailing! It was my first time getting to do that & it's something I've wanted to do since I was a kid. I also enjoyed kayaking a lot, too. The water was so clear and blue, and we got to see some interesting birds. Next time I really want to do a dolphin jet skiing tour!
Told ya, I took allll the photos haha. Well, that sums up our trip to Key West! The weather was absolutely perfect in May, and I know I'll be going back as often as I can.
Have you ever been to Key West? If yes, what are your favorite things to do/see/eat/drink? If not, what is your favorite vacation spot?